LITTLECOMMIE IS...NOW DOING BUSINESS AS SPARKLE TELEVISION!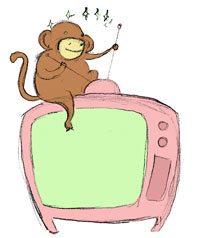 So, check that out.
This may come back. It may evolve into something new. Here is some history below, and there's a bit of the present at shannonmanning.com, and some future at sparkletelevision.com. You are invited to be a part of that present and future, and of course the past, if you can figure out how to do that. That would change everything!
Only a heartbeat away...
art culture politics humor magazine on hiatus
MAGNET THEATER Improv & comedy theater
DEAD DADS Play about life death love
DRINKYTOWN Variety shows/workshops
RED ALL OVER Political improv shows & workshops
LECHE MAGICA Topical video collective
Thanks for visiting littlecommie - projects in film & print, on tv, stage & web by Shannon Manning & her many collaborators