The Migration of Hipsters Along the L Line:
An Independent Study
by Dorothy Gambrell
From the first light of September 2001 through the end of August 2002, I covertly noted movings and goings on the L line. Upon departure from First Avenue, I chose those two people on the train who most resembled "Hipsters," as they are commonly imagined. I then noted at which stop they departed the train, and have assembled my charts from a year's worth of this information. Due to my own daily departure at Morgan Avenue I could collect no data after that stop, and had to lump all those results into the "Past" category. Nonetheless I hope this information might prove useful to those students of trains, "Hipster" migration, and above all the human spirit.
Tangential to The Migration of Hipsters Along the L Line
I wasn't living in New York before the unlimited Metrocard, but I've been unemployed to the extent of not being to afford one, and I'm going to pretend that conclusions drawn from that are adequate. And the conclusion is that you walk everywhere. If you're hungry you go to the closest supermarket. If you want to meet friends for a drink, you meet friends who live nearby at a bar that is nearby. But if you're working you're buying an unlimited Metrocard, and once you've got that it's a short and essentially free ride to meet your friends from Astoria and your friends from Park Slope at a bar in the Lower East Side.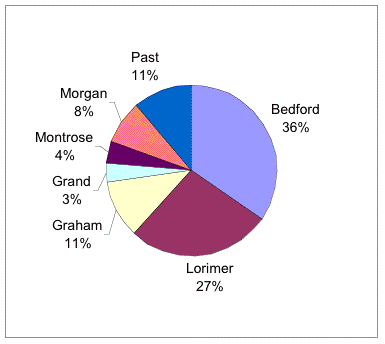 So instead of fanning out around the Bedford L stop we shoot right past it into hipster-loft enclaves of the few blocks around the next stop on the L (and the next and the next), residential areas and communities that exist totally independent of anything around them save the subway line.
Take the L to Morgan Ave. and you will find very little there. There are countless lofts filled with failing artistes, NYU students, and 9 to 5ers imagining themselves as noise band bohemians. There is an exceptionally surly bodega, a diner that is very good but only open in the morning, and a large Boar's Head meat processing facility. But the closest decent supermarket is 2 stops away at DeKalb, and the bars and concerts are back at the Bedford stop, if not in Manhattan.
As gentrification moves out along subway lines rather than through neighborhoods it does the blocks it chooses to possess no favors. I'm not going to buy food at the surly bodega when there's a gleaming Foodtown just an essentially free subway ride away, and yet my presence times hundreds increases the rent landlords can charge and drives out the people who once lived here. This pattern is most easily seen in Williamsburg/Northern Brooklyn, where the L provides us with a conveniently linear axis and the areas hosting little but industrial buildings provide an especially stark example.
Dorothy Gambrell is the creator of Cat and Girl comics. catandgirl.com.